aboutus
McCurley's Shaw Carpet & Floor Center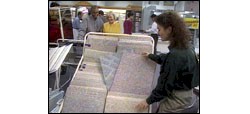 FLOORONE.NET YOUR SAN FRANCISCO BAY AREA CONCORD FLOORING CARPET HARDWOOD LOCAL FLOORING STORE
McCurley's Carpet and Flooring Center (floorone.net) is one of the largest flooring sources located in the San Francisco Bay Area in Concord and San Ramon for over forty years. We provide commercial and residential hardwood flooring, laminate floors, carpet and carpet tile, vinyl, luxury vinyl tile (LVT) and vinyl composition tile (VCT), linoleum, porcelain tile, floor care and maintenance products including adhesives and accessories, cleaners, resilient floors, bamboo and cork flooring, baseboard and crown molding, custom hardwood including sand and refinishing, rubber flooring, commercial flooring and more. Our professional in-house carpet and flooring installers can complete your project in a timely and efficient manner.

Come and visit our flooring stores and showrooms in the Northern California Bay Area in San Ramon, Danville and Concord, Walnut Creek where you can view hundreds of the latest flooring styles and designs from all the major brands. McCurley's provides flooring material and flooring installation for commercial and residential spaces in Alameda County, Contra Costa County, San Francisco County, Concord, San Ramon, Walnut Creek, Danville, Alamo, Diablo, Lafayette, Orinda, Moraga, Dublin, Livermore, Pleasanton, Blackhawk, Martinez, Pleasant Hill, Santa Clara, San Jose, Oakland, Berkeley, San Francisco, Tracy, Cupertino, Mountain View, Saratoga, Los Gatos, Sunnyville, Milpitas, Palo Alto, Brentwood, Fremont, Hayward, Antioch, Piedmont, Castor Valley, and other Bay Area cities as well as nationwide.

Our stores and warehouses carry a large inventory of flooring at discounted special prices including carpet, carpet remnants, hardwood, laminate, vinyl floors, tile and stone, floor care products and adhesive and carpet pad for immediate delivery and installation.

Our staff is knowledgeable and has over forty years flooring experience and we offer free in-house / on-site estimates and design consultation as well as free delivery to most areas. Our professional distributor channels provide quick and easy delivery nationwide. Since we are aligned with major floor manufacturers and we buy direct we can offer you the lowest price guarantee including promotions, specials and sales.

In addition to our residential and commercial flooring projects (click here for a list of references), which have included homes, condos, townhouses, schools, malls, offices, business parks, retail stores, airports and others, we provide floor contracting services and our in-house, experienced flooring installers are ready to provide reliable and timely floor installation, including weekend and after-hour service, to designers, realtors, builders, general contractors, property managers, architects, and more. McCurley's Floor Center, Inc. strives for sustainability and is committed to partnerships with green and environmentally-responsible flooring companies who maintain our natural resources.

hardwood flooring, laminate floors, carpet and carpet tile, vinyl, luxury vinyl tile (LVT) and vinyl composition tile (VCT), linoleum, porcelain tile, floor care and maintenance products, flooring adhesives and accessories, cleaners, resilient floors, bamboo and cork flooring, baseboard and crown molding, custom hardwood including sand and refinishing, rubber flooring, commercial flooring
Why Us
Our Company
At McCurley's Shaw Carpet & Floor Center we believe that it should be all about you. Our main goal is to do everything possible to make you satisfied.
Selection
We offer a large selection of products
McCurley's Shaw Carpet & Floor Center carries a complete line of products from the world's leading manufacturers. Click on the links below to find out more about these products.
Customer
Testimonials
Sandra C.
Dublin, Ca.


My experience working with Ray at McCurley's was very positive. He was extremely patient with me in reviewing

hardwood

flooring and thoroughly explained his estimate. He offered me the best price I could get on the flooring I chose. He was also very professional and polite. He promised to have my flooring done prior to Thanksgiving and he delivered accordingly. I am thrilled with my hardwood flooring.....simply gorgeous! I highly recommend McCurley's and their staff!

Pj T.
Livermore, CA


We recently remodeled our house and hired McCurley's to install

hardwood

flooring in our kitchen, Family room, Living room, Dining room and Hall way (approximately 1300 square feet). McCurley's did a fantastic job and we couldn't be happier. Working with Ray was easy. He was nice, professional, and fulfilled all his promises. He was very flexible and patient with our crazy construction's schedule and delays. He helped us to pick right type and color of hardwood flooring; he did everything in his power to make things go smoothly and David installed our flooring perfectly. Everyone at McCurley's is friendly, professional, and knowledgeable. My husband and I highly recommend McCurley's!!!

Ana T.
Danville, Ca


We are so pleased with the entire experience of purchasing our

hardwood

flooring from McCurley's in Danville.




Specifically it was Ray worked with us but since we popped in quite a bit, we also had the opportunity to speak with everyone and all are very accommodating to our questions.





We installed hardwood floors 6 years ago in the kitchen. We love the look of thst particular wood ad color we decide now we would put that same wood floor in four other rooms, but can we still find that same color and brand-yes! We found it at McCurleys, I did check several other wood flooring stores and most did not have it and others were way over priced. I was down to McCurley's and one other store who price was the same. It then came down to customer service, both stores were great but Ray with McCurleys went the xtra mile and measured the rooms at no charge. He and the rest of store staff including management were so kind and helpful and we were a bit of a pain in our decision process.





They have wonderful selections, great knowledge and service to go along with best pricing.

R B.
Danville, Ca


We have had McCurley's do many projects for us. They have installed carpet and hardwood floors throughout our home and our rental over they years. The service has always been excellent. Oscar and Casey are great and always take care of us. The installers they use do wonderful work. They are neat and quiet and friendly. In fact, we recently had them install the

hardwood

from our bedroom into our walk in closet and the installer took extra time to make sure the subfloor was screwed down properly to eliminate a squeak that we have had there since we bought our house. They did a great job and we are very happy.

Michelle Barry
Michelle Barry
San Ramon, CA
"I've been meaning to send you a thank you note. The floors look beautiful. The installers were wonderful. Absolutely thrilled with the work too..........